Spirit of Peace Indian Museum

Dakota Cultural & Educational Center
Dakota Owned & Operated
---
Summer Events
Storytelling
Each summer there will be storytelling in the beige tipi on the Spirit of Peace Powwow Grounds in Pipestone. Stories old and new will be told for the young and the not so young, everyone is invited to join us in this annual event.
Dates:
Saturday evenings in June, July & August.(7 p.m.)
(The last weekend in July is powwow weekend, so no story telling.)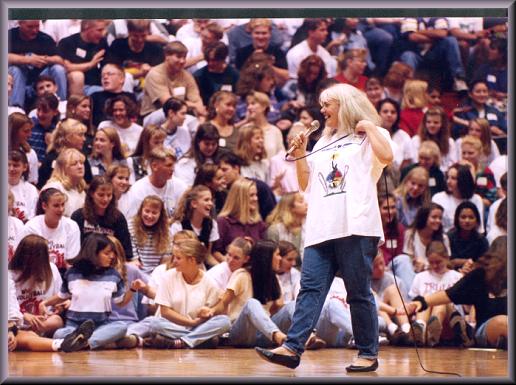 photo copyright Worthington Globe 1996
storytelling in 1996 at Worthington High School
Please check in at the Little Feather Center prior to going to the grounds - thanks
---
Craft Displays
These will also be at the Spirit of Peace powwow grounds, unless the weather is wet when they will be held at the Little Feather Indian Center in Pipestone.
Crafts will be shown by Native and non-native people. Catlinite crafts will be demonstrated, and other western style crafts will be on sale.
---
Beads & Buckskins
This program has been presented since 1994, the same as the storytelling. Customized programs can be designed for groups of 10 or more, at your place or ours. There are many categories to chose from.
If you are visiting the Museum for the day and would like a basic talk on the Dakota culture please let us know prior to your arrival so that we can have everything set up.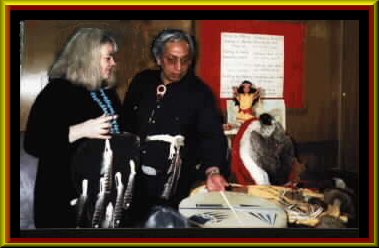 photo copyright Elizabeth McCabe 1995
Chuck Derby and Gloria Hazell presenting Beads & Buckskins to a scouts group in 1995
---
Original Pipestone Dakota Tiospaye
present
The 5th Annual Traditional Wacipi
at the Spirit of Peace powwow grounds, Pipestone
Last weekend in July every year.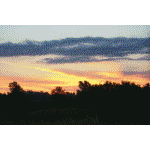 please click on the photo above for more details
---


PAGES OF ITEMS IN THE MUSEUM: Photographs and other historic items.

HOME
Graphics on this page from

©
Site constructed and designed by Pipestone Spirit Designs
Photographs copyrighted by Gloria Hazell 2003